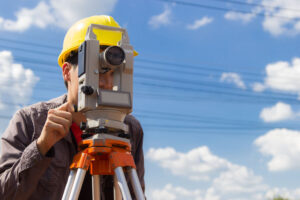 A route survey, also known as a reconnaissance survey, is completed to determine the feasibility of an area to build railways, roadways, highways, waterways and more.
A route survey is a required service that will make sure the planned route for the structure is legal and accurate and it is an important step in the planning and building process.
If you're in the beginning stages of building, it is extremely important to familiarize yourself with route surveys to ensure your project is completed as required by law. 
Roadway & highway projects
When the decision has been made by state or local governments to build a new roadway, a route survey will need to be completed before work can begin.
These surveys will make sure it is safe to build the roadway or highway between the two fixed distances and will measure angle, elevation, horizontal distance and more.
During the survey, it may be determined that the original route is not feasible, and an alternate route can be planned that still leads to the desired end point.  
Railway projects
Should you be charged with building a new railway system, you will be required to have a route survey performed before any ground can be broken.
A route survey during the planning and design phase will give you detailed analysis of the land in which you are hoping to build upon and will let you know of any potential roadblocks.
This survey will help identify the safest route while ensuring no other land or property is being damaged.
Waterway projects
Whether it be the building of a drainage ditch, sewer, canal or any other waterway, you will need to have a route survey completed to ensure that it is safe to begin work on the project.
A route survey will help determine if there is anything standing in your way and will allow you to make any necessary divergences.
When you're tasked with the building of a railway, highway, waterway or any other route that will be built over a lengthy amount of land and need to have an accurate and professional route survey completed, we ask that your reach out to our team at Scholle's Land Surveying today.
We have assisted with the very best route surveying services in Indiana for years and will be honored to get to work for you soon.
To have a comprehensive route assessment performed for your upcoming project, we ask that you call us today at 812-663-6526 to get started.