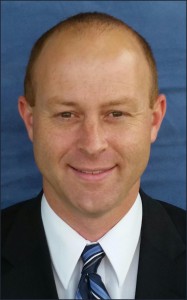 Scholle's Land Surveying Inc. specializes in boundary surveys, subdivision design, ALTA/NSPS Land Title surveys, topographic surveys, and flood certificates. Attention to detail and thorough research has helped Scholle's Land Surveying Inc. to achieve rapid growth since 2004. We take pride in our search for current and past deeds, old surveys and historical notes. We use global positioning systems (GPS) for our fieldwork whenever possible to help achieve the most accurate survey while at the same time cutting down on cost. Conventional total stations are used in areas where GPS is not accessible.
Andrew P. Scholle RLS #20400051
License: Passed the professional land surveyor exam in the spring 2004
Education: Bachelor's degree from IUPUI and Associate's degree from Vincennes University
Public Office: Current Decatur County Surveyor
Affiliations: Member of Indiana Society of Professional Land Surveyors, the ISPLS Greenville Treaty Chapter, Decatur County Chamber of Commerce
Background: Started Scholle's Land Surveying in October 2004. The company was originally based in Ripley County and then expanded to include an office in Decatur County in March 2006. I consolidated both offices into one office in Greensburg in August 2007.
Scholle's Land Surveying has three employees all with degrees in Land Surveying. They have performed research in numerous counties across the State and are familiar with Geographic Information Systems (GIS). Today most courthouses are keeping records on computers. GIS has become a vital tool for record keeping in the 21st century. Using education and experience the staff at Scholle's Land Surveying can quickly and efficiently research any property in the State gathering data that will serve as the foundation for our clients projects.